-Clear bumper lenses
-Toyota aftermarket fog lamps
Hella/Toyota Fogs
Clear bumper lenses
I purchased both the fogs and the clear lenses off of Ebay. The fog lights were discontinued Hella lights sold by toyota dealerships, therefore they came with all the brackets, wiring and OEM switches. This is the only fog light that Toyota offered for the 1996-1998 4Runners.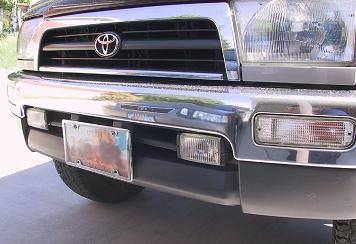 Suspension and Tires
-Extended Rear Breather
Michelin LTX A/T 265/75 16 Tires
My Dad bought a set of Michelin LTX M/S (265/70/16) for his 96 4Runner when it had 36,000 miles on it, he now has 102,000 miles and is still running the same tires. They ride smooth and have good on-road traction. When I was searching for a set of tires to replace my crappy stock Dunlop's, my dad recommended Michelins. I wanted a tire that had a more aggressive tread so I could take it off-road. I ended up buying the A/T's in a 265/75 (32 inch) size. They are excellent tires, there are times that I wish it was a little more aggressive, but I only spend 25% of my time off-road, so it isn't really necessary. Unless you are a off-road nut and go every weekend, I would recommend these tires.
I get many questions if the 265/75 tires take a lot of power vs. the stock 265/70 size (1 inch difference). Since I had these tires before my engine was supercharged, I can tell you that I did notice a difference. It wasn't as drastic as moving from a 235/75/15 size tire to 32inch tires that I did in my old Ranger, but it was noticeable. The solution = Supercharger!!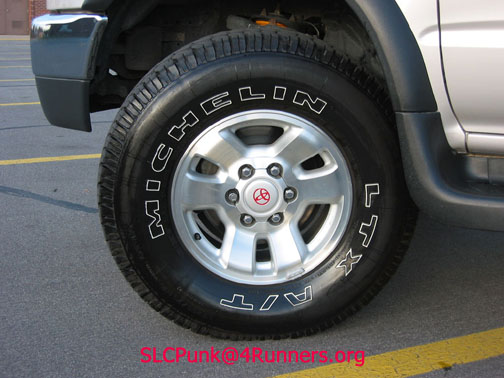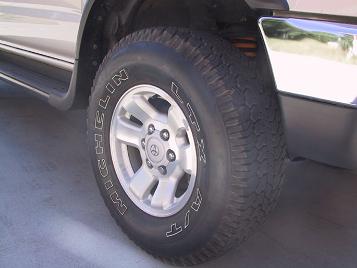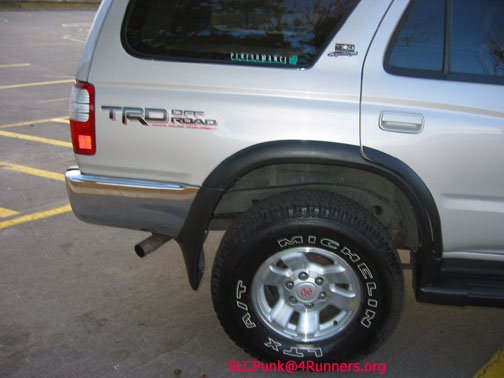 Performance Products springs
The PP springs are a progressive rate spring. Before I installed these springs, my 4Runner had a lot of body roll and the ride was too soft for my preferences. These springs ride very good, I feel like I have more control over the truck now, and it corners a lot better.
As you can see, I am still running the stock struts and shocks.. I would like to upgrade to a set of Bilsteins but The stock Tokio's are just fine for now.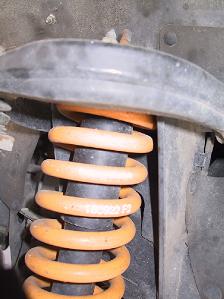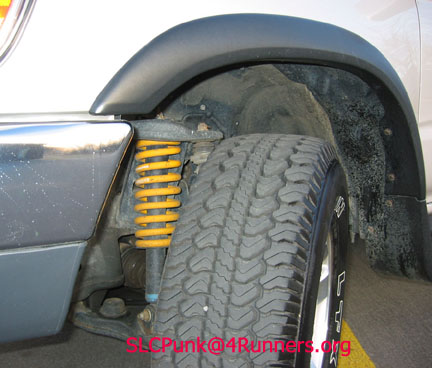 And the rear...